Technical & WWII Records
1939
Niels Bohr meets in Princeton warning scientist community about the first fission of Uranium core by germans.
Einstein writes Roosevelt encouraging him to start Nuclear investigations in the path to create innovative weapons.
March, Nazis takes Czechoslovakia (Uranium Mines).
September, Nazis takes Poland. WWII has begun.
1940
England have a very advanced Nuclear investigation laboratory in Cambridge. And decides collaborate with EEUU, delivering MAUD Dossier, to win the Nuclear Race to Germany and War probably.
Belgium and France fall down in three weeks by Germans (Wehrmacht).
The conclusion:
A big Uranium Bomb (20K) = 1800 Tn of TNT
Massive deaths
&
Dead Land
Great Idea!
1941
Military-Industrial Complex
& Manhattan Project
1942
Some industrial groups called:
Name: Richland, Hanford Engineering Works
Location: Hanford, Washington.
Type: Plutonium Plant.
Group: Dupont.
Name: Oak Ride, Clinton Engineering Works
Location: Oak Ride, Tennessee.
Type: Uranium-235 Plant.
Group: Monsanto & General Electric.
Installations Map of Manhattan Project
Pioneers / Los Alamos
Vannevar Bush
The Political
Col. Leslie Groves
The Militar
Robert Oppenheimer
The Scientist
1943
Allies meet in Quebec, Great Britain and Canada join the Americans in their Nuclear Program
Canada have important Uranium mines. Will provide 4,000 Tns. of material until 1946.
War winds changes, exhausted by the raw winter, germans lose against the Russian Army in Stalingrado.
1944
Roosevelt and Churchill meets in Hide Park, New York.
The question: Warn the world about the power of the Nuclear Bomb? Talking about moral & ethical procedure.
Americans know the German Nuclear Program was abandoned two years before.
The soviets occupy Poland.
Americans takes Normandy and Sicily.
In the Pacific the US Army takes Saipan, Filippines, getting close to Japan.
Potsdam Conference
1945
April 12, Roosevelt dies. His successor: the Senator Harry Truman.
Truman don't know the atomic heritage he are receiving from Roosevelt, he understand soon the great decision waiting on his political agenda.
Iwo Jima and Okinawa are conquered by the American Army
May, Berlin falls. Germany surrenders.
The Great Bussines of War
The Bombs
CodeName: Little Boy
Design: Los Alamos Lab. (Project Y)
Weight: 9,700 pounds (4,400 kg)
Lenght: 10 feet (3.0 m)
Diameter: 28 inches (71 cm)
Filling: Uranium-235
Bombing Date: August 6, 1945
Casualties: 135,000
Target: Hiroshima
CodeName: Fat Man
Design: Los Alamos Lab. (Project Y)
Weight: 10,300 pounds (4,670 kg)
Lenght: 128 inches (3.3 m)
Diameter: 60 inches (1.5 m)
Filling: Plutonium
Bombing Date: August 9, 1945
Casualties: 64,000
Target: Nagasaki
Hiroshima & Nagasaki
August 6, 1945
Hiroshima
Nagasaki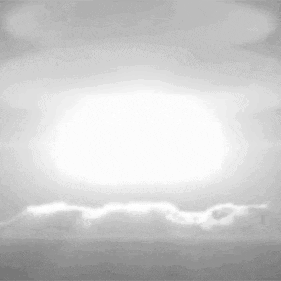 Scroll